Bring your ideas to light.
Need direction, motivation or a whole new idea for your book?
Whether you are a new writer or seasoned professional determined to finish a memoir or non-fiction book, a thought leader with big ideas but no time or inclination to write, or a business that needs persuasive branded content that converts, we will put our expertise to work and swiftly get you on the right track.
Storytelling
Ghostwriting and Editing + Content Creation
"When I first reached out to Joanne I had no idea the journey I was about to embark upon. Working with Joanne was a true gift. Her collaborative nature and ability to take all of my short pieces to create a book was beyond impressive. Throughout the coaching and editing process, Joanne provided direct, loving feedback and I truly felt as though she understood my mission while capturing my voice. It's because of her loving nature and incredible wisdom that I was able to accomplish my dream!"
"Joanne is the first writer that I have worked with that is worth their salt! She has collaborated with us on myriad content as well as several books. She is incredibly creative — always focusing on ways to promote me and my company in any way possible through well-researched pieces and other thought-provoking articles.
I am always amazed at her level of integrity and skill and to top it off she is a delight to work with. If you are looking for someone who does what they say they will — and way beyond — then she is your lady!"
How can you benefit from book coaching and content strategy?
Book coaching provides you with guidance. We can help you tell your story.
Yes, that story, that burns in your heart. We listen mindfully for the connection points and create an outline for your book, ghostwrite it or collaborate as a writing partner with you. The end result will be a story that leaps off the page.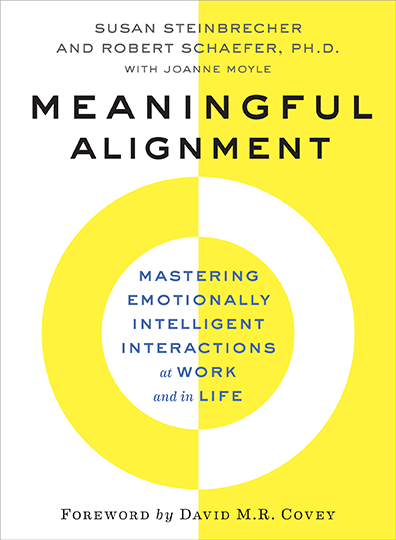 MEANINGFUL ALIGNMENT:
Mastering Emotionally Intelligent Interactions at Work and in Life
Meaningful Alignment will provide you with well-defined, practical, and effective tools to manage your emotions and deftly facilitate the emotions of others during a tough conversation.
"…a relationship buildng book every entrepreneur should read."  — Forbes
"Joanne is very creative and professional. Throughout the writing process – whether it was branded content or a family history piece she did for me – she was able to tune into my vision, with ease. She is an excellent writer and her business background in myriad industries serves her well when writing on a wide range of topics, from natural health to psychology. I wholeheartedly recommend her."
Content strategy that works.
If you are a business, we are able to see the big picture and produce creative content that will raise awareness of your brand or profile, and ultimately increase your bottom line.